QBlock Pac-Man


PAC-MAN is a registered trademark of Namco Ltd.
PAC-MAN Copyright © 1980 Namco Ltd., All Rights Reserved.
For Educational Use Only!

This is a proof of concept of the rapid-prototyping QBlock engine. Starting from scratch, this game took a single day to complete using entirely free software. Features 2-players, 4 playfields, and A.I. that gets smarter every level!
How to play:
Move with the arrow keys.
C'mon, it's Pac-Man! Everyone knows how to play Pac-Man!
NOTE: This demo uses an obsolete version of the QBlock engine, for the latest version check the QBlock SourceForge page.
Five Seconds To Destruction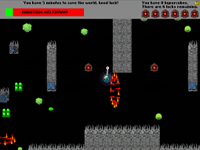 "There's been a terrible accident at the Solar Fusion Reactor, and life as we know it is about to EXPLODE! Leap inside the failing reactor core with your ultra high-tech Magnetic Hook Suit and save the world from total destruction!"
| | |
| --- | --- |
| PLAY | (Flash / ActionScript3) |
| DOWNLOAD | (Flex Builder project, 774K) |
How to play:
Press spacebar to start the game.
Press and hold spacebar to shoot your grappling hook.
Release spacebar to jump forward.
This is my official entry to the Gamma IV one-button game design competition for GDC 2010. View the README for full details.